Prime Plus WiFi Smart Control Grills
DIGITAL CONTROLLER
Standard Features
Low Pellet Alarm lets you know when you need to add fuel
Hot Start Mode in case of power failure or accidental turn-off
Food Probe for safe temps
Temperature Control in 5 degree increments from 150-500°
End-of-Cook Fan Mode to cool your grill/exhaust down most of the ash from the firebox for less frequent cleaning.
The Green Mountain

DIFFERENCE
Wood Fired
Pellet Grills
A motor turns the auger which feeds pellets into the firebox. There, a hot rod automatically ignites the pellets, and a combustion fan below keeps them burning. Vents vertically line the inside of the Firebox creating a circular air flow. A fan inside the Pellet Hopper maintains positive pressure which prevents burn-back in the auger tube. When met these two air flows create the ultimate wood burning fire and circulating pure hardwood smoke flavor.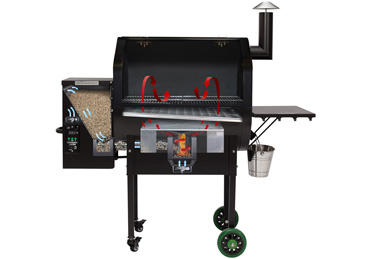 The Heat Shield* that covers the Firebox distributes the heat to both sides of the grill and flows up through the Open Flame Grease Trays and into the convection-style grill chamber. A sensor mounted inside the grill sends data to the on-board computer ten times every second, and the controller adjusts the air and pellet flow to maintain the temperature you set.
Bring your BBQ grilling to the 21st century! Downloading our app lets you grill with convenience from either the comfort of your home through WiFi point-to-point control or from wherever your day may take you through Server Mode which lets you control and monitor the grill remotely. Control and monitor grill & food temps, create and set cooking profiles, set timers & receive alerts right from your phone.
WOOD-FIRED
ANATOMY
Jim Bowie

1. Thermal Sensor
2. Pellet Hopper
3. Hopper Fan
4. Digital Controller
5. Low Pellet Sensor
6. Auger
7. Open Flame Grease Tray
8. Heat Shield
9. Combustion Fan
10. Igniter
11. Firebox
12. Drip System
13. Chimney
14. Dome Thermometer
Daniel Boone

1. Thermal Sensor
2. Pellet Hopper
3. Hopper Fan
4. Digital Controller
5. Low Pellet Sensor
6. Auger
7. Open Flame Grease Tray
8. Heat Shield
9. Combustion Fan
10. Igniter
11. Firebox
12. Drip System
13. Chimney